April 4, 2014 at 2:22 pm
An interesting piece of news crossed my vino desk this week, coming to us from the Ovation (FB, Tw, YT) cable television network.  "The Art of" series, covering the bleeding edge of non-traditional art,  is in its third season on Ovation. The new season will cover a topic near and dear to Vinopanion – WineLog.net: wine country.  "The Art Of": Wine Country" will premiere this Sunday, April 6 at 7:30 p.m. ET. This half hour episode will cover the intersection of #food, #wine, and of course #art within the context of our very own wine country.  Longtime Vinopanion favorites Artesa Vineyard and Winery will be featured, alongside Sonoma Valley Lasseter Family Winery (WL, FB, Tw) and famed Napa farm to fork chef pioneer, Cindy Pawlcyn (FB, Tw).
Check it out this weekend!  #theartof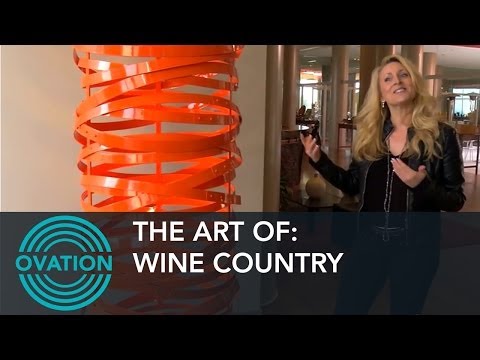 Color: Medium dark garnet, light garnet edges.
Nose: Dark cherry fruit here, very ripe, with some integrating toast, and nice fresh garden herbs to balance the deep fruit and earth.
Palate: This is a wonderful medium-bodied wine, with very good acidity and that great smoothness of mouthfeel from a great pinot. Deep, but bright and balanced black and Bing cherry, with some savory garden herbs underlaying their fleshiness. Finishes long and juicy, with fine tannin, dark fruit, and slight savory toast. Good: NewWorldWK.
 Artesa Sonoma/Napa Merlot 2004
Color: Darker garnet
Nose: Pretty good, with good dark currant, menthol, blackberry and a touch of red fruit with some oak behind it.
Palate: Some interesting earth, but then lots of fruit and some nicer and unexpected tannic build with some decent acidity, as well. Good value for the money: QPRWK.
Color: Medium to lighter golden in tone.
Nose: Sweeter toast with good brighter lemon and tarter pear pitted fruit.
Palate: Bright acidity, with good toast here as well, juicy lemon and floral pitted fruit here as well. Medium body, this is good for the value: QPRWK.
Color: Light goldenrod, medium bead
Nose: Good mix of light lemon peel and yeastier aromas.
Palate: Also nicely light here, but still with complexity arising from the interplay between light citrus and fresh bread. Good acidity.
Ward Kadel - @drXeNo
is the founder of
Vinopanion
wine blog, the West Coast Ambassador & Staff Blogger for
WineLog.net
and
Le Wine Buff
for
Bordeaux.com (CIVB)
. He will try any and all wines and tends to write about the parts of his life that include wine...like virtually all of it! He and his wife grew up in Napa and Sonoma and they still live in the Napa Valley. View Ward's
WineLog
and check out the wines he's recommended with his
WKBadges
. Follow him on
Twitter
and Like
Vinopanion
on
Facebook
.
Contact him: "Ward at WineLog.net".
Ward happily accepts samples but does not guarantee a review, positive or negative.
Leave a Reply