January 6, 2013 at 5:56 pm
In May of 2012, I had the fantastic opportunity to visit the Strada del Vino Terre di Arezzo (Twitter, Facebook, WineLog) region of Tuscany, Italy. I attended courtesy of Strada, as organized by Sally Fischer PR. I spent only about a day and a night in a couple of villages along the Strada, including Bucine and Arezzo, itself.
There I visited the beautiful estates of Petrolo (Twitter, Facebook, WineLog), including a winemaker tour and lunch with Stefano Guidi. I also had a tour, tasting, family dinner, and one night stay at the glorious Fattoria Migliarina (Facebook, WineLog) wine estate and agriturismo destination with the family of Antonio & Carlo Bartolini Baldelli. In this video embedded below, I have collected a few different clips from those beautiful 24hrs during late spring in the heart of the Strada food, wine, and eco travel route.
You can find links below to all of my other ongoing #StradaVinoArezzo coverage. Look for another post soon with more stories about my travels and all of the wine reviews.  Cheers!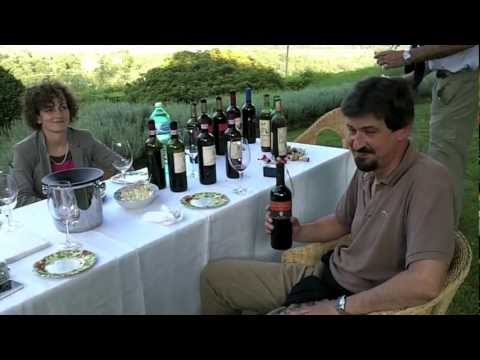 Posts on Vinopanion – WineLog.net: http://wkwine.us/V-StradaVA
Wines on WineLog.net: http://wkwine.us/WL-StradaVA
Facebook: http://wkwine.us/V-StradaVA-fb
Flickr: http://wkwine.us/V-StradaVA-fl
Youtube: http://wkwine.us/V-StradaVA-yt
The Wine Traveller Guide/Italy app: http://wkwine.us/LpjQd8
Ward Kadel - @drXeNo
is the founder of
Vinopanion
wine blog, the West Coast Ambassador & Staff Blogger for
WineLog.net
and
Le Wine Buff
for
Bordeaux.com (CIVB)
. He will try any and all wines and tends to write about the parts of his life that include wine...like virtually all of it! He and his wife grew up in Napa and Sonoma and they still live in the Napa Valley. View Ward's
WineLog
and check out the wines he's recommended with his
WKBadges
. Follow him on
Twitter
and Like
Vinopanion
on
Facebook
.
Contact him: "Ward at WineLog.net".
Ward happily accepts samples but does not guarantee a review, positive or negative.