December 4, 2012 at 9:18 pm
Wine gadgets are the perennial gift for the wine lover that we all know in our lives.  Let's be pretty honest with ourselves, however: most wine gadgets are crap.  They are the easy gift to give to someone, but the vast majority of wine wingdings out there just do not work, or are just too darn tricky to work to really matter.  The preceding reasons are why I usually have an internal sigh when I open a package and see a new wine thingamajig inside.  A perfect wine gadget needs to easily and quickly, accomplish what it promises to perform.  Lo and behold, a recent sample that came my way from Steinreich Communications actually checks off all three of these boxes.  And thus, I'm happy to recommend it's services as true contendor for a holiday wine gadget gift.  I present to you, loyal reader, the Air Cork wine preserver (Twitter, Facebook, Youtube).
I tested the Air Cork with a fine bottle of dry rosé, the 2011 Chimney Rock Winery Stags Leap District Rosé of Merlot. I can say that it's fine because, well, I helped make it! It was one of the wines that I worked on during harvest last year at the winery for Man Falls in the Vines – #MFITV.  It's also the reason that I can't review the wine (sigh…ethics), despite being the first finished wine that I've tasted from our vintage.  I also chose a rosé because they don't play well, typically, with air and age.  These are Now Drinkers.  Therefore, if the Air Cork can save these wines, it should be able to preserve just about any wine.
As the video below shows, it is quite simple to use the inflatable device.  Place the balloon portion into the bottle, just above the wine, then start pumping!  Once you see about 1 inch of balloon stuffed against the wall to create a seal, you can toss it in the fridge overnight.  I did this with the Chimney Rock (Twitter, Facebook, WineLog) and then tasted it again the next night.  My notes were almost identical.  I did detect the slightest change in the fruit, making it fuller and more ripe, but not oxidized and raisiny.  If it can preserve this fresh and youthful Stags Leap dry rosé, it should definitely be able take care of your more aged or special wines that don't get fully drunk.
You can buy the Air Cork at their online store, or on Amazon.  Cheers and Happy Holidays!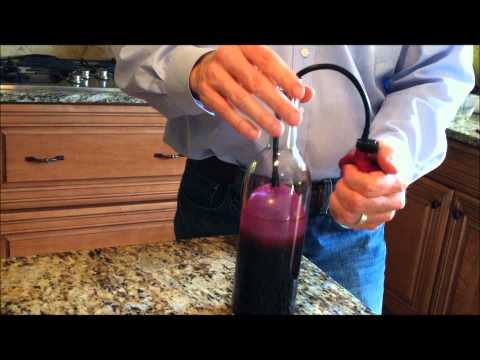 Ward Kadel - @drXeNo
is the founder of
Vinopanion
wine blog, the West Coast Ambassador & Staff Blogger for
WineLog.net
and
Le Wine Buff
for
Bordeaux.com (CIVB)
. He will try any and all wines and tends to write about the parts of his life that include wine...like virtually all of it! He and his wife grew up in Napa and Sonoma and they still live in the Napa Valley. View Ward's
WineLog
and check out the wines he's recommended with his
WKBadges
. Follow him on
Twitter
and Like
Vinopanion
on
Facebook
.
Contact him: "Ward at WineLog.net".
Ward happily accepts samples but does not guarantee a review, positive or negative.
Leave a Reply