July 8, 2012 at 5:30 pm
This last day (09/22/12) in the Kingdom of Navarra (Twitter, Facebook) were both a happy and a sad dream, in multiple ways.  On the one hand, we visited another stunning estate in the Navarra DO of Spanish wine country, but on the other hand it was our last day of the trip, so…As you can imagine, we had many moments of elation and wistfulness that day, all bouncing around together, in our heads and hearts. Similar to the previous days on the trip, we began our morning with a historical lesson followed by an eye-massagingly beautiful bodega, with lunch provided at said estate.  It was a tremendous way to end our #Navarra5 trip.
 Villa Romana de Arellano, AKA La Villa de las Musas or The House of the Muses, is far from any other establishments within the golden, rolling plains portion of the Navarran farming countryside.  It's nickname arises from the glorious tile mosaic that is found in the upper part of the Villa, which depicts the ancient Roman Muses.  The Villa was originally built in the 1st century and appears to have had many different owners and cultures over the centuries, based on the archeological remains that have been unearthed in the part living-area, part ancient winery and olive press.  The entire home and much of the estate is contained within a protective aluminum building, replete with a number of elevated walkways and viewing platforms.  It is a wonderfully ancient history lesson and well worth the scenic drive out to the museum.
Following our dip into some of the oldest history found in Navarra, we headed out to our final Bodega visit, motoring over to the prized property of the Bodegas Chivite (Twitter, Facebook, WineLog) family of wine estates, Propriedad de Arínzano. Once we headed down the long driveway and crossed over the bridge above their property's creek, the Director of Communications and PR met us in front of their historical church, Eduardo Ruiz.  Eduardo projects a striking figure with his Spanish style and dark looks, but is also surprisingly soft-spoken.  Indeed, one can hear this in the video embedded below, where he discusses the Bodega's DO de Pago vineyard, certified as the highest quality possible within the wine appellation system of Spain (mentioned previously in Day 3).  Finished with our introductions, we jumped into his Range Rover and headed up the mountain to this highest point on the property, just above their Chardonnay vineyard.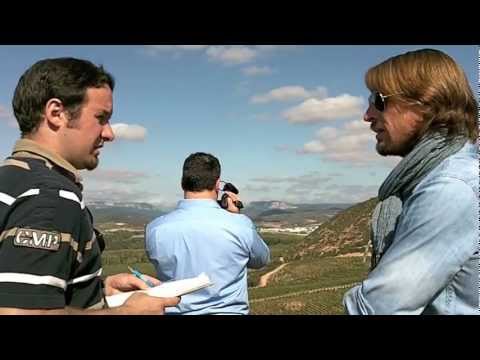 While it was difficult to leave the almost 360 degree view of the the Navarran landscape beyond the peaks of Arínzano, we certainly needed to get back for our tour of the estate and the two most important agenda items of the day, the wine tasting and paired luncheon.  We hopped back in the SUV and headed down the mountain.  Arínzano was originally a lord's property, owned by Sanch Fortunones de Arínzano, and used as a working wine estate in the 11th century.  Fast forward a few centuries into the 1980's and we find the property being sold to the Chivite family, a very well respected wine family in Spain.  The current King and Queen of Spain, Juan Carlos I and Sofía, recently celebrated more than 1000 years of winemaking tradition on the property, a remarkable achievement in the world of wine.
Our tasting of the wines provided some of the best examples of highest quality wine within the whole of Spain.  While these high-end Pago wines did show perhaps, more power and deeper depths of dark fruit than many of the other wines that we had tried throughout our short week in Navarra, the earth, acidity, dry fine tannin, and savory herbs and anise showed that these were still true wines of Navarra.  I found it quite difficult to choose a favorite during the tasting and our later estate lunch, but two wines did garner AwesomeWK badges, blowing me away with their balance, complexity, and overall wow factor: the Bodegas Julián Chivite Navarra Colección 125 Blanca 2007 and the Bodegas Chivite DO de Pago Arínzano 2002.  These are absolutely tremendous wines and we were each fortunate to receive a bottle of the Pago from Eduardo, at the conclusion of our visit.
Kindness began our trip to Navarra, and the kindness of wine ended our visit to this fascinating Kingdom.
Our travels across Navarra were tagged in realtime on Twitter using the hashtag #Navarra5.  The intro post in this series can be found earlier on Vinopanion, with Day 1, Day 2, & Day 3 covered earlier in this series. You can find all of the photos & videos from this fabulous trip to Navarra, Spain (Twitter, Facebook) (and a little to Basque Country) on my Flickr in their own set and tagged with "Navarra5".  All of my runs that I took (including getting lost!) are on my MapMyFitness, titled "Wines of Navarra".  Lastly and most importantly, all of the awesome wines that we had from our first day are listed below and all are tagged with "Navarra5" so that you can list them in your own WineLog.  Cheers!
Bodegas Julián Chivite Navarra Colección 125 Rosado 2006
 Bodegas Julián Chivite Navarra Colección 125 Blanca 2007
Color: Medium golden with canary highlights.
Nose: Bright yet dusty lemon, with a neat flint to it, toast and light cream, unbuttered toasty popcorn at rim.
Palate: Good acidity, creamy medium to full mouth that still has good acid. Flint alongside the juicy lemon and juicy yellow apple and just a phenomenally long finish of flint and lemon: AwesomeWK.
Bodegas Julián Chivite Navarra Colección 125 Reserva 2005
Bodegas Julián Chivite Navarra Colección 125 Vendimia Tardía 2008
 Bodegas Chivite DO de Pago Arínzano 2000
Color: Garnet core, medium ruby edges.
Nose: Black fruit, black olives and leather here, with some earth and black plum.
Palate: Crazy smooth mouthfeel with finest tannins anise and fennel, integrated toast, black and even some dry blue fruit. Very balanced, with elegance yet power, finishing with black cherry. Great food acidity as well: OldWorldWK.
Bodegas Chivite DO de Pago Arínzano 2001
 Bodegas Chivite DO de Pago Arínzano 2002
Color: Dark garnet, medium garnet edges.
Nose: Awesome. Anise dusted leather with earthy black fruit and again that savory and salty, in this case, black olive. Astounding nose.
Palate: Very smooth again with bigger cassis and the dusting of finest tannins. Earthy, further ripe black fruit, tobacco, and new leather out to the long finish: AwesomeWK.
Bodegas Chivite DO de Pago Arínzano 2004
Ward Kadel - @drXeNo
is the founder of
Vinopanion
wine blog, the West Coast Ambassador & Staff Blogger for
WineLog.net
and
Le Wine Buff
for
Bordeaux.com (CIVB)
. He will try any and all wines and tends to write about the parts of his life that include wine...like virtually all of it! He and his wife grew up in Napa and Sonoma and they still live in the Napa Valley. View Ward's
WineLog
and check out the wines he's recommended with his
WKBadges
. Follow him on
Twitter
and Like
Vinopanion
on
Facebook
.
Contact him: "Ward at WineLog.net".
Ward happily accepts samples but does not guarantee a review, positive or negative.